A humanitarian channel from France to Bulgaria for people with disabilities
A donation truck
A truck will soon leave from Lyon to Harmanli – Bulgaria – (about 2,500 kms).
In coordination with the association Solidari'terre and CAN humanitarian, SFB organizes the next donation for the disabled of the city of Harmanli, a truck with:
8 pallets of 1.20m x 1.00m
2 beds of 2.10m x 1.00m
 a total weight of 600 kg maximum containing:
4 adults armchairs
3 shower seats
7 pairs of crutches
50 adult walkers
10 pierced chairs
2 medical beds.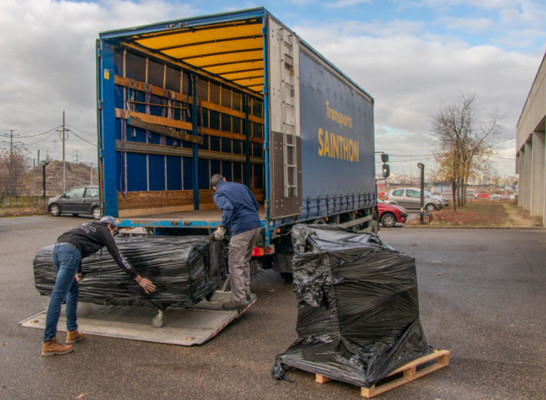 Donation truck and medical beds
Many thanks to all the donators
Thank you to all donators at all levels of the various associations: financial donations, donations of time, work, care, support.
Many thanks to all of you who have worked behind the scenes at each of these stages.
It is indeed a large humanitarian chain that can meet the needs of disabled people in the city of Harmanli.
It begins with the students of the CAN humanitarian association who refurbish the equipment for disabled people as part of a professional learning project. Congratulations to teachers, supervisors, trainers who collect this material and guide high school students in a concrete project of solidarity.
It continues with the necessary relay of our friends engineering and management students of the association Solidari'terre, with whom we have been working for fifteen years in a row.
It continues with the logistic support of SFB, which will contribute to the transport costs, ensure coordination in Bulgaria and ensure the proper use of the equipment thus collected, repaired, transported and finally delivered to the beneficiaries. They hoped for it, were waiting for it.
Finally it will be finalized with the intervention of Nathalia Dreharova, head of social services of the city of Harmanli and Councilor who will receive the equipment, distribute it. We are pleased that this devoted cousin of Maria Dimitrova-Pichot, the president of SFB, is taking this final step in this humanitarian chain.
Events in Bulgaria
The mothers of disabled people have been demonstrating for weeks in Bulgaria for state support.
It is a very limited but concrete answer for the families concerned in this city of Harmanli where the needs are pressing, which arrives through this associative chain of which you are part.
***************************************
You too, donate!
A proof will be sent to you if necessary, on simple request to:
SFB c/o Mrs. Dimitrova-Pichot
6 rue Lounes Matoub 93300 Aubervilliers.
Please indicate the amount and the date of the transfer made in your request and your details.